The 34.59-meter sailing yacht from the South African shipyard, Southern Wind, has now been delivered as the first hull of the SW105 series. She is now ready for her maiden voyage from Cape Town to the Mediterranean according to the shipyard.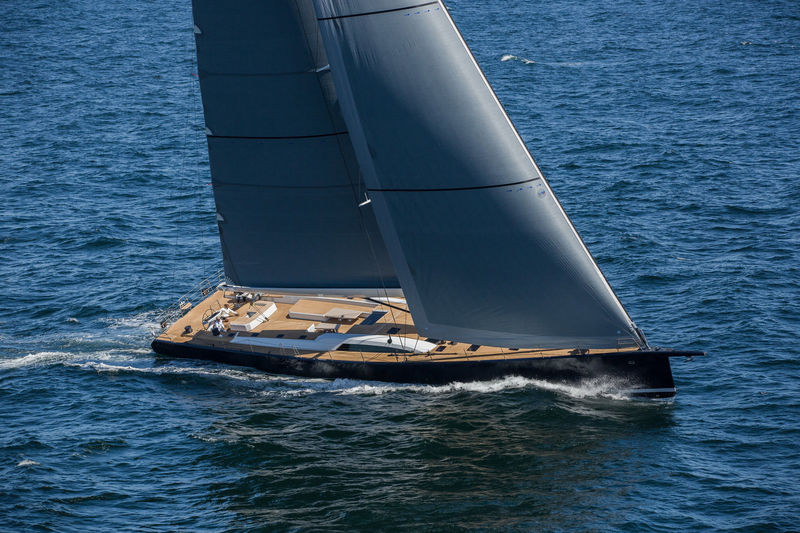 Naval architecture was done by Farr Yacht Design and met all the requirements of her performance-oriented owner. An unbroken sheerline, running from bow to stern, gives her a sleek and purposeful profile in keeping with her considerable regatta racing potential.
"The aim when conceiving this project was to incorporate a modicum of race boat features into a cruiser/racer while keeping a beautiful aesthetic and a high level of comfort. This yacht stands out for the radical design of her lines and the advanced technology of her materials and systems" said Jim Schmicker, Vice President of Farr Yacht Design, and responsible for the naval architecture and general concept, the latter in collaboration with Nauta and Southern Wind.
Styled inside and out by Nauta Design, as the brief was for "house-like ergonomics" and Massimo Gino of Nauta Design adds: "We succeeded in designing a single level deck while keeping the freeboard low and without compromising the height of the interiors for the comfort of guests and crew, and still leaving room for all the structures and running systems as we had planned from the start."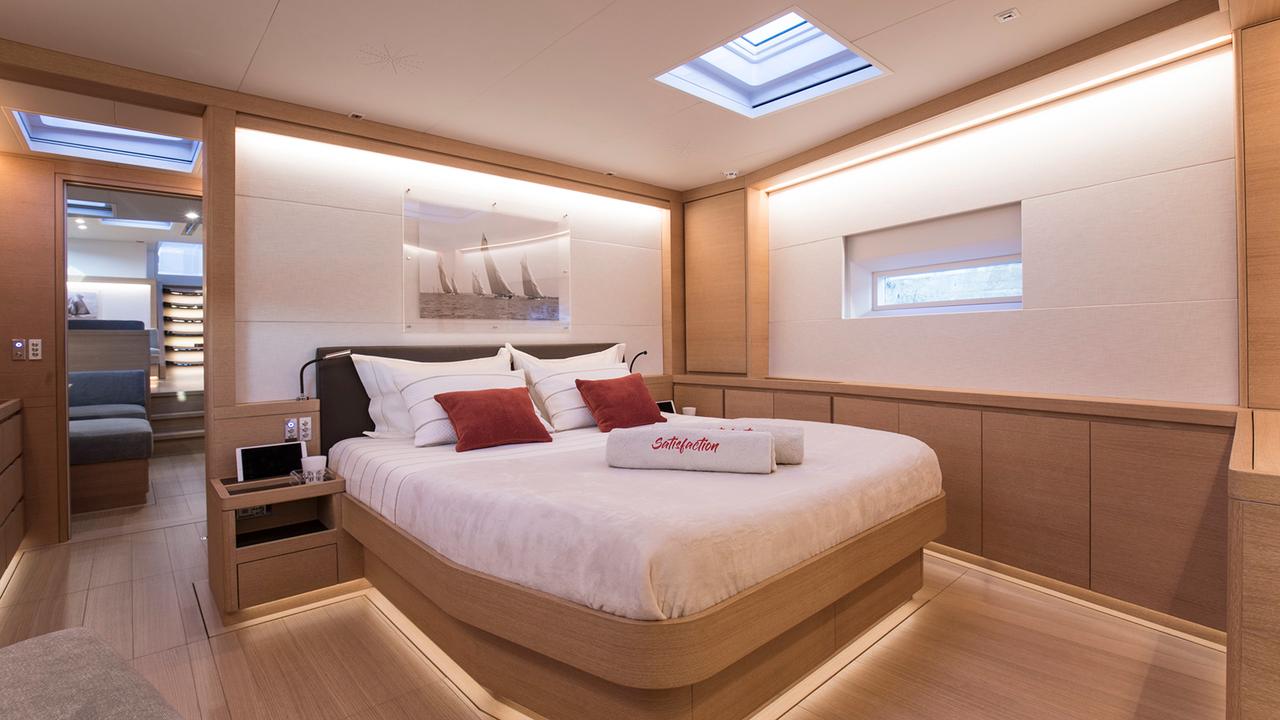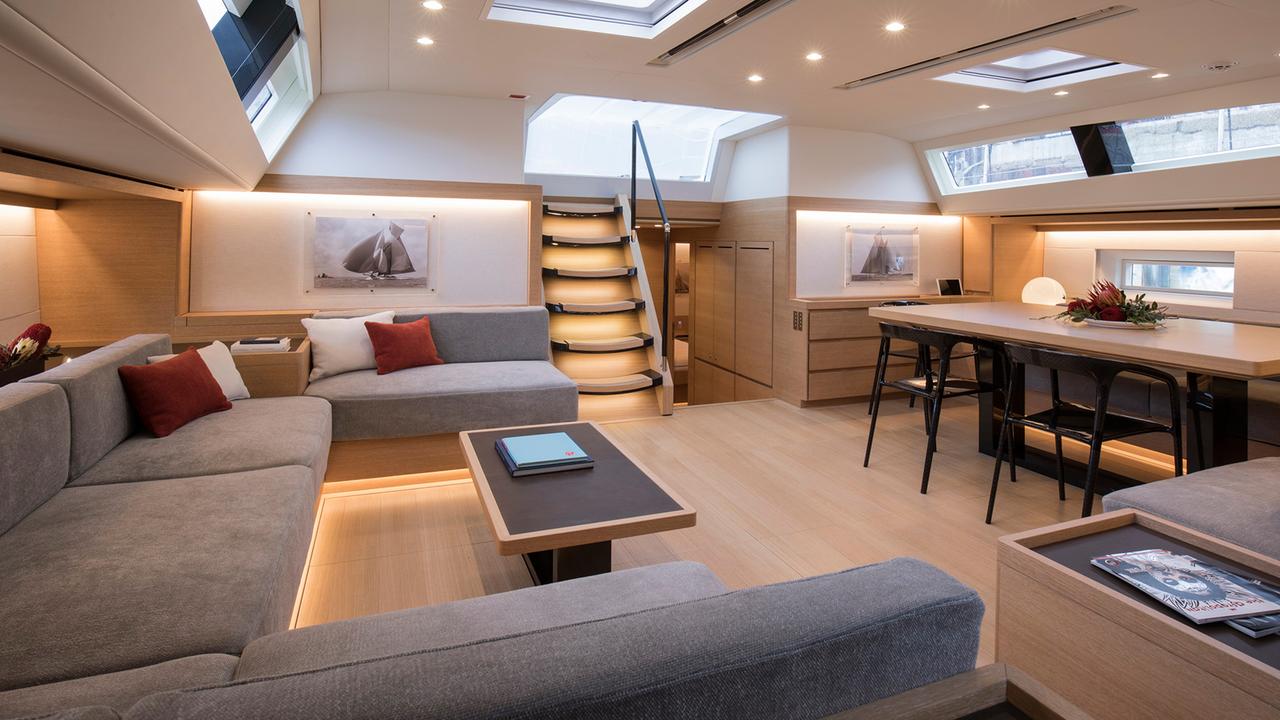 Sloop-rigged, Satisfaction was built from a carbon fiber hull and superstructure to comply with RINA classification standards. For added weight saving, she features synthetic teak decks.
Accommodation is for up to eight guests split between four staterooms, including an owner's cabin situated in the bow, and two twin rooms and a double cabin amidships. Meanwhile, the crew quarters allows for a staff of up to six people.
Other key features include a raised coachroof, a 7.32-meter beam and a notable broad aft section, which allows Satisfaction to carry both a 4.2-meter jet tender and a Jet Ski in her superyacht garage. For ease of on-deck service, she has been fitted with a custom electric dumbwaiter that connects the galley to the cockpit.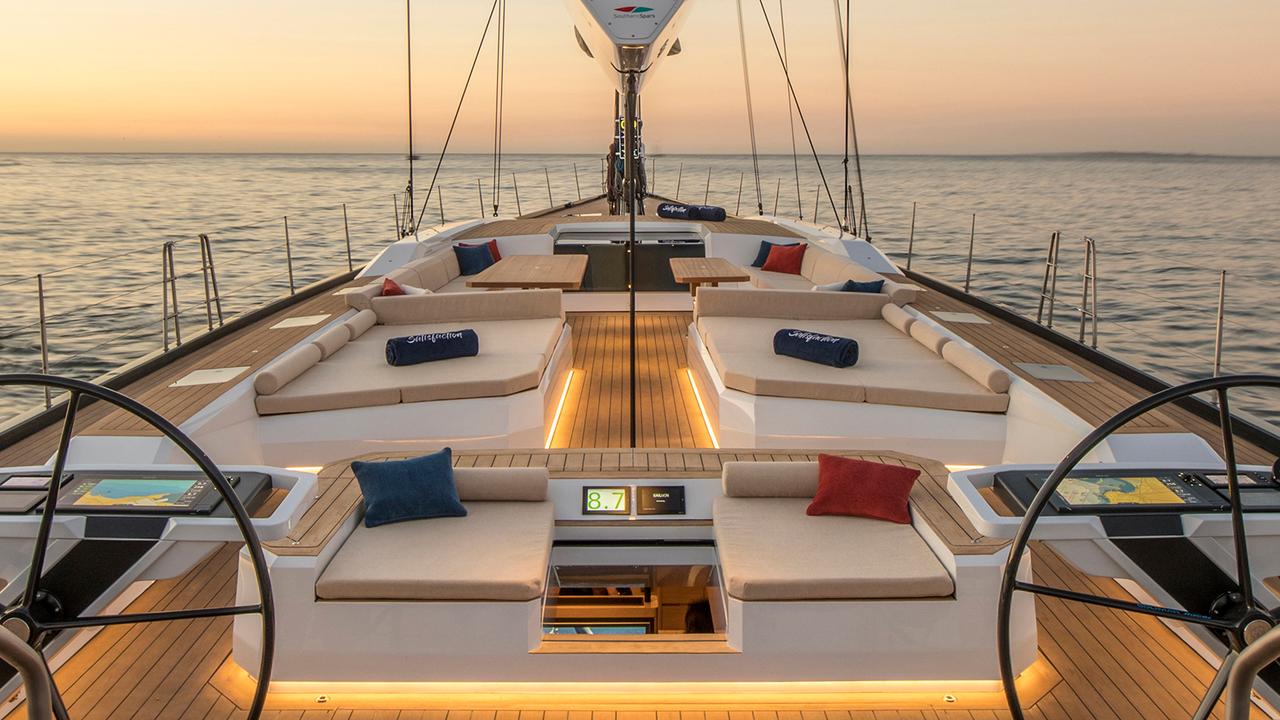 Her fixed bowsprit incorporates an integrated anchor arm and fittings for a gennaker tack line and a furling code zero. Auxiliary power comes from a single 305hp Cummins QSB 6.7 MCD engine, while her telescopic keel means the maximum draught can be reduced from 5.6 meters to 3.65 meters when cruising in shallow waters.
Commenting on her performance, Marco Aberti, general manager of Southern Wind, said: "Satisfaction is a perfectly balanced and powerful sailing yacht that performs very well in light air. Thanks to her twin rudder configuration, she is very light on the helm in any condition. The wide deck with the cockpits on the same level gives a real superyacht feeling."
Two further hulls in the Southern Wind 105 series are already under construction, with June 2018 and December 2018 launch dates planned.
Source: Southern Wind delivers 34m Satisfaction – Yacht Harbour